Who We Are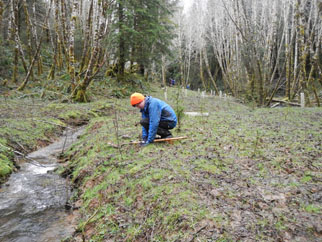 The North Coast Watershed Association (NCWA) is a non-profit organization that coordinates watershed councils and other community-based efforts to improve watershed health on the north coast of Oregon and in the Columbia River estuary. The NCWA believes healthy watersheds sustain healthy communities.
Vision for the Watersheds
The NCWA envisions healthy watersheds that support optimally functioning ecological processes and sustainable populations of naturally spawning fish, wildlife and human communities. We recognize that salmon are a keystone species in Pacific Northwest ecosystems and the NCWA will continue much of its focus, its attention and resources on improving salmon habitat. We believe that by bringing back the social, economic and ecological role of salmon, the overall health of the watershed and our communities will improve.
Vision for the North Coast Watershed Association

The NCWA works collaboratively within the community and in partnership with local, regional and federal agencies, as well as  businesses, corporations, landowners and volunteers to foster stewardship, restoration, enhancement, recreation and celebration of our local rivers and watersheds. The NCWA serves as a resource for and coordinates the activities of its member watershed councils (Ecola Creek, Skipanon, Youngs Bay, and Nicolai-Wickiup) and maintains a diverse and engaged Board of Directors. The NCWA will build healthy communities through education and outreach, encouraging conservation, taking region-wide issues to the legislative level and providing opportunities for the public, landowners, and schools to become engaged in improving the health of their watersheds. We will continue to seek, maintain and increase funding for our staff, restoration projects, monitoring, assessments and activities that celebrate our local rivers and watersheds.
The North Coast Watershed Association Board of Directors (BOD) is made up of representatives from each watershed council (Skipanon, Youngs Bay, Ecola and Nicolai Wickiup) as well as other stakeholders who have an interest in the health of their watershed. The BOD meets once a month in Astoria, dates and times are subject to change. The individual councils also meet as time allows. Please contact the watershed council coordinator at northcoastwatershedcouncils@gmail.com for more information.
North Coast Watershed Association Board Members

•    Carla Cole – Chair
•    Chris Farrar – Vice Chair, Nicolai-Wickiup Watershed Council Representative
•    Tessa Scheller – Secretary, Skipanon Watershed Council Representative
•    Mike Seppa – Youngs Bay Watershed Council Representative
•    Scott Rekate – Ecola Creek Watershed Council Representative
•    Mark Garrigues – Greenwood Resources
•    Katie Voelke – North Coast Land Conservancy
•    Ty Williams/John Tillotson – Oregon Department of Forestry
•    Michael Summers – Clatsop County
Board of Directors Meeting Minutes